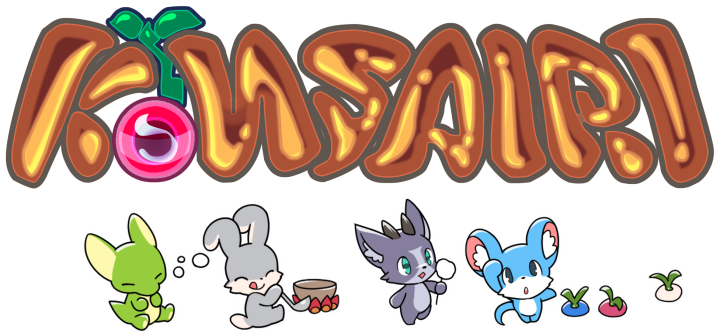 KONSAIRI (PICO-8)
A downloadable KONSAIRI for Windows, macOS, and Linux
If you have already purchased the game on itch.io, you will receive a DL key for Steam.
Please contact us if you wish to receive one.
There will be fewer updates on itch.io.
---
---
KONSAIRI WIKI is now available!
https://w.atwiki.jp/konsairi/pages/1.html
(Japanese Only)
-- The following is an old description. --

Game Features
Guide Ruth the fox cub to the nest by using the 8 "KONPSI"!
Find a veggie that's sprouting from under your feet.
Going to throw it.
Going to hold it up (using "KONPSI")
Eat it.
You can do that.

Wake up the sleeping inhabitants (NPCs) and have a meal with them!
Eating for..
Restore life.
Status up
Opening up new roads
All of them are very important to get back to the nest.

Keep the BELL in your hand!
The effects of BELL are
Upgraded status.
Instantaneous movement to the second half area
Conditions for true endings (reordering of BELLs)
Explore the dungeon!
What you'll find in the dungeon
BELL order hint
New corridors in the area
A place for Ruth to come home.
Features of each edition

SP Edition
(Special)
*Not distributed


This feature will be carried over to the Complete pack.


This edition allows you to reach all areas of the game and the ending.
BGM appreciation function in the game.
Avatar change function.
- Select "SPECIAL" from the menu list on the title screen.
- Paste in the appropriate data format.

Do you need Caracter customiser ?


PR Edition
(Professional)

This edition allows you to reach all areas of the game and the ending.


TR Edition
(Trial)

Free price!
The game ends when you reach the LOTUS-TELESCOPE area and acquire and use the lotus root.
Story
The inhabitants have lost their energy and disease has begun to spread.

With the power of INARI, Halma uses the art of rice fertility to trade a special MEDICINE with her neighbors.
Halma tried to get Ruth to take over INARI as his successor, but she was unable to do so.
The inheritance of INARI was too much for young Ruth to focus on as she was too young to carry the load.
Ruth came to her old home to distract herself. However, she is attacked by a virus.
Ruth escapes and gets lost, but at the same time she wakes up to the "KONPSI".
Using the power of the veggie with the "KONPSI", she begins an adventure to return to her own nest while helping the inhabitants.
Thanks
Package art:
@nokoyama
Play test & Advice:
@hibikukou
@CornetTheory
@n_huulong
Download
Click download now to get access to the following files:
konsairi_tr1.2_windows.zip
1 MB
konsairi_tr1.2_linux.zip
786 kB
konsairi_tr1.2_osx.zip
3 MB
konsairi_tr1.2_raspi.zip
1 MB